Biography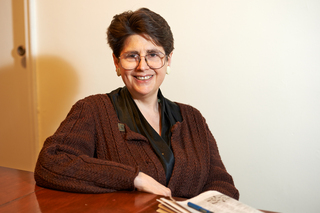 Barbara Stratyner, who has also published as Barbara Cohen-Stratyner, is an acclaimed historian of performing arts, popular culture, and radical advocacy focusing on 19th and 20th century America. As long-time Curator of Exhibitions for the New York Public Library for the Performing Arts (1989 - 2016), she created exhibitions and 12-16 page brochures and catalogues, articles and blogs, rather than books. Subjects of her exhibits and articles include puppetry, early sound film, fashion, costume design, Alvin Ailey American Dance Theater, Dance Theater of Harlem, Head Shots, Anti-Fascist Performance, and Blacklisting, and Jazz, as well as photographers Martha Swope and Florence Vandamm, and artists Ralph Lee, Ademolo Olugefefola, and James Wyeth.
She is currently completing a book-length study on Photographing Broadway, focussing on Florence Vandamm (the Vandamm Studio) and her 50 year career documenting performance in London and New York. She blogs as "outsidethemuseumblogs" on Wordpress https://outsidethemuseumblog.wordpress.com/ (2016 - ) and her popular blog series can still be found at https://www.nypl.org/blog/author/barbara-cohen-stratyner (2009 - 2016). Her articles on performance and on museums appear regularly in Museums & Social Issues, Exhibitionist, Performing Arts Resources, Studies in Dance History, and many other journals.

In 2017, she received the Louis Rachow Distinguished Service Award from the Theatre Library Association.

She has a Ph. D. in Performance Studies (NYU) and degrees in Design and Museum Education Administration. Stratyner served as Chair of the Committee on Diversity in Museums of the American Association of Museums and is proud to have contributed as an edtor to the LGBTQ Alliance Welcoming Guidelines of 2016 and the updated edition of 2019, which can be downloaded from https://www.aam-us.org/wp-content/uploads/2019/05/2019-Welcoming-Guidelines.pdf. She also serves on the Steering Committee of the Museum Accessibility Consortium.

Stratyner has a past career writing and editing reference books. Her Biographical Dictionary of Dance (Schirmer Book, 1982) was designated an outstanding reference book for that year by Choice, but is out of print. Her Popular Music: 1900 - 1919 (Gale, 1988) and 12 annual volumes of Performing Arts Resources are still found in most library collections.